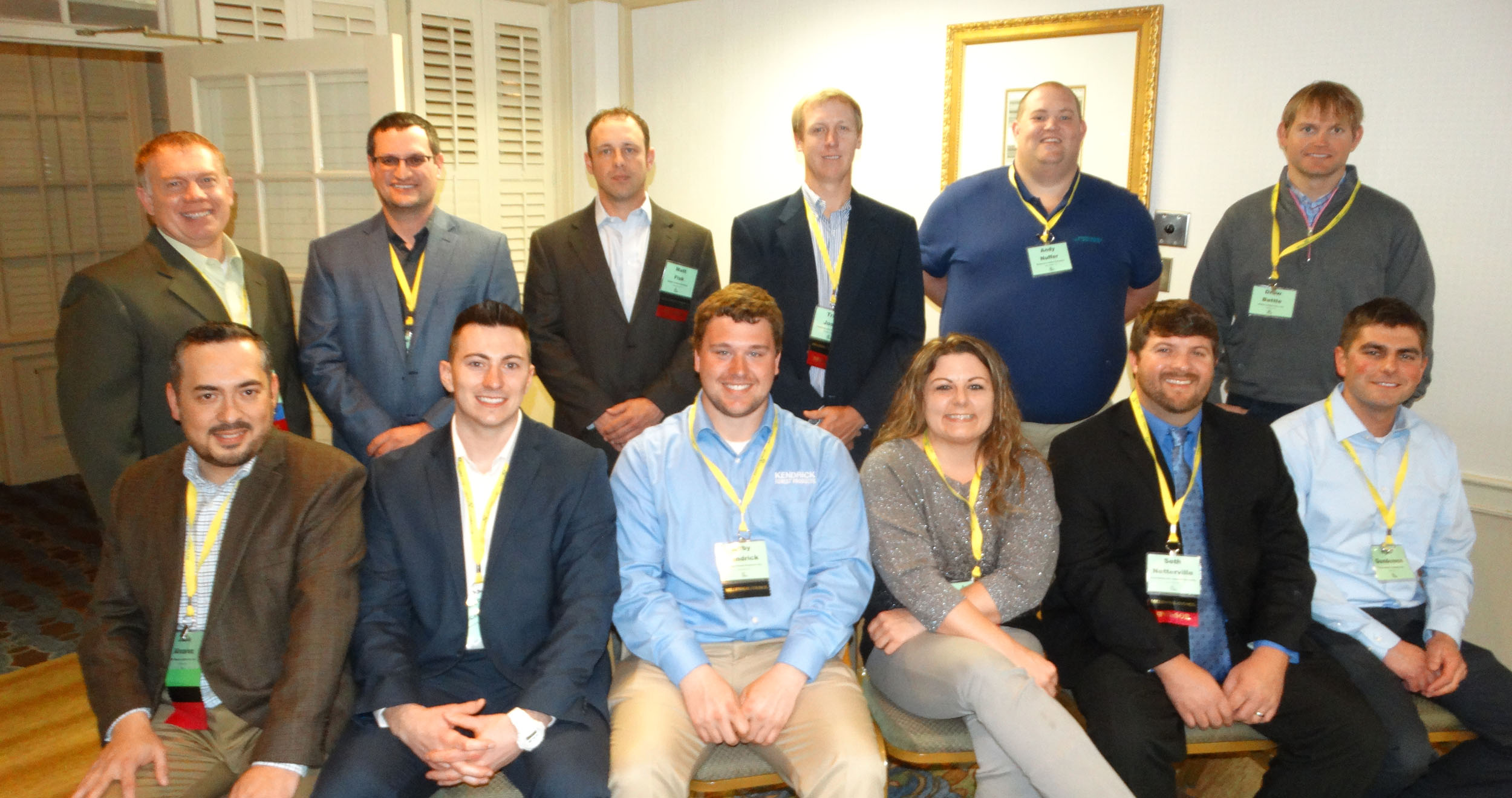 Pictured from left to right, front row: Julio Alvarez, Council Coordinator; Jacob Schriner, Kirby Kendrick, Jessica Fly, Seth Netterville, and Kyle Gunderson.
Pictured from left to right, back row: Bob Miller, Trent Yoder, Matt Fisk, Tripp Josey, Andy Nuffer, and Drew Battle.
HMA NextGen Leaders Council
The purpose of the HMA NextGen Leaders Council is to engage the next generation of leadership in HMA member companies and the industry, and to seek their input as to how the HMA can better serve the professional development of future leaders.
Membership is open to anyone under the age of 40, who is currently employed in an HMA member company, and has been recommended by an HMA member. During their three-year term, Council members:
are encouraged to attend HMA Board of Directors meetings, as well as Hardwood Federation Fly-Ins, in order to become familiar with all aspects of HMA and gain insight into industry issues.
must be willing and available to work on various HMA sponsored projects to help further develop each Council members and to offer insight and recommendations on improvements for the HMA.
Current NextGen Council Members and Council Coordinator:
Tripp Pryor –American Hardwood Export Council
Matt Fisk -Baillie Lumber Company
Drew Battle - Battle Lumber Company, Inc.
Andy Nuffer - Bill Hanks Lumber Co., Inc.
Jessica Fly – Fly Tie & Lumber, LLC
Seth Netterville - Fred Netterville Lumber Company, Inc.
Ben Pierce - Holt & Bugbee Company
Kirby Kendrick - Kendrick Forest Products Inc.
David Platt - Kuhns Brothers Lumber Company, Inc.
Jacob Shriner – Northwest Hardwoods, Inc.
Kyle Gunderson – Pike Lumber Company, Inc.
Nick Thompson – Thompson Appalachian Hardwoods, Inc.
Truss Beasley – Thompson Hardwoods, Inc.
Council Coordinator – Julio Alvarez - Bill Hanks Lumber Co., Inc.