Curtailing Risk in Your Wood Operations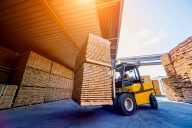 Looking to minimize areas of risk within your organization? Pennsylvania Lumbermens Mutual Insurance Company (PLM), through Mastery Technologies, Inc., is offering a library of streaming safety training videos that may help. Here is a sampling of what's available.
Forklift Operator Safety: Handle with Care
This training lesson will focus on four major techniques and rules of operation to help raise the level of forklift safety: inspection, stability, safe operation, and loading trucks and trailers.
Industrial Fire Prevention
This video reviews and provides information needed for fire prevention and management if a blaze does break out. It addresses ignition sources, classes of fires, ways to extinguish flames and safe handling of flammable materials. The program combines this information with job-specific pointers for workers using welding and electrical equipment, paying special attention to the unique fire risks these jobs pose, as well as the threats caused by sparks and static electricity.
Machine Guarding and Operator Safety
Machine operators who try to "cheat, defeat, or override" safety guards and practices put themselves at risk of injury and even death. This safety training course teaches the importance of using machine guarding and safety devices, as well as following safe handling practices."
Sound like a potential resource for your operation? If so, visit PLMins.com and browse the extensive video library. Then contact the PLM Loss Control Team, 800.752.1895, to discuss implementing these risk management tools into your safety program.
Pennsylvania Lumbermens Mutual Insurance Company has been serving the wood products and building materials industries for more than 125 years.