TrendTracker Update - May 2019
By Art Raymond
Some of the Key Indicators of our Hardwood Economy are making positive headlines but … the robust GDP and employment reports may be disguising weakness, while a trade war with China looms.
In July, the current U.S. recovery will enter its 11th year, the longest period of continuous growth since the end of World War 2. Looking at the recent performance of key economic indicators for our hardwood economy:
U.S. Gross Domestic Product
1Q 2019 GDP grew by 3.2 percent, the strongest rate in four years. Net exports, coupled with higher inventory investment, provided sufficient impetus to offset weakness in consumer spending and residential investment. The performance was a bit surprising given the partial government shutdown in Q1 and weak global economy noted in February's TrendTracker Update.
Businesses continue to invest with that sector rising 2.7 percent.
The consumer sector, which accounts for about two-thirds of our economy, rose only 1.2 percent with lower spending on durables offsetting strong purchases of non-durables. Given the robust job market, soft consumer spending is a disappointment. Watch for the next round of reports on consumer spending (Retail Sales on May 15 and Personal Income & Outlays on May 31).
Residential investment contracted 2.8 percent, the fifth consecutive quarterly decline. More on the housing sector later in this report.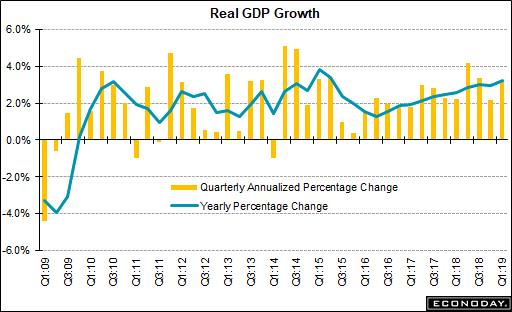 Interest Rates
The Personal Consumption Expenditure Index, the rate used by the Federal Reserve in setting the Federal Funds rate, slowed to an annual rate of 0.6 percent from 1.5 percent in 4Q 2018. As a result, on May 1 the Fed voted unanimously to maintain its benchmark interest rate in a range of 2.25 percent and 2.5 percent. That move was anticipated despite stronger-than-expected growth in the first quarter of 2019, and an unemployment rate approaching a half-century low.
Employment
The U.S. economy continues to generate new jobs. Payroll employment increased by a whopping 263,000, in April. Last month became the 103rd consecutive month of job market growth, the longest streak on record.
The headline Unemployment Rate fell to 3.6 percent, the lowest level since December 1969.
The construction sector added 33,000 jobs in April, bested by a 76,000 increase in professional/business services including 18,000 in temporary help. The latter is a sign that businesses are increasing the use of contract staffing to fill needed jobs.
The manufacturing workforce changed little, for the third straight month, after adding an average of 22,000 jobs for the twelve months ending in February.
The share of Americans working or seeking a job, as measured by the Labor Force Participation Rate, fell to 62.8, down 0.2 percentage points from March but unchanged from 12 months ago. This statistic reports the percentage of the working age population either employed or actively seeking a job. It reached an all-time high of 67.3 percent in January 2000.
The Employment–Population Ratio changed little in January to 60.6 percent, and has fluctuated +/- 0.1 percentage points in the past year. It reached a peak of 63.4 in 2007, just prior to the Great Recession.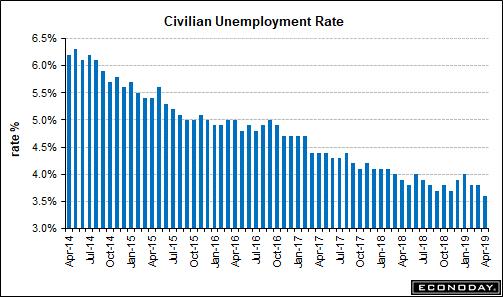 The Total Unemployment Rate came in at 7.3 percent, down 0.5 points from a year ago. This metric, known as U-6, is based on a broader definition of employment status that includes (i) persons who are currently not working nor looking for work but indicate that they are available for a job and (ii) part-time workers who want full-time work but have settled for a part-time position. Many economists consider U-6 the most accurate measure of the under-employed.
The average hourly wage rose by 3.2 percent over the last 12 months. That's up 85 cents to $27.77. The average work week for all non-farm employees fell by 0.1 hours to 34.4 hours.
The Labor Productivity & Costs report for 1Q2019 showed a 3.6 percent improvement in the annualized productivity of the U.S. work force, its best performance since 3Q 2010. With the job market remaining tight, it's critical to produce more with fewer workers, in order to justify wage increases and keep inflation below the Fed's 2.0 percent target.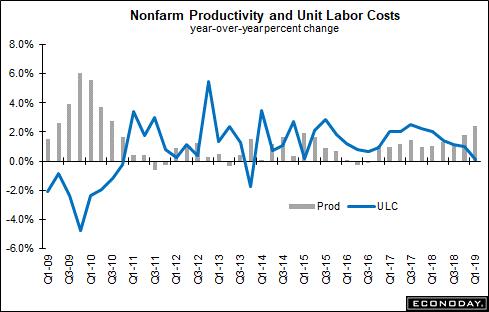 Hours worked in 1Q rose by only 0.5 percent, while output jumped by 4.1 percent. That mix was no doubt fueled by the strong level of investment in labor-saving plant and equipment over the last 18 months. Compensation grew by only an inflation-adjusted 1.7 percent, a moderate increase when compared to the surge in output.
Productivity has a significant effect on wage rates and the standard of living. The higher a worker's output per hour, the more that worker can be paid.
In March, the Job Openings & Labor Turnover Summary – better known simply as JOLTS – reported 7.488 million openings, up 4.8 percent, and 5.660 million hires, up only 0.6 million. The 1.828 million gap between the two set a new record. For each job opening there was only 0.8 unemployed workers.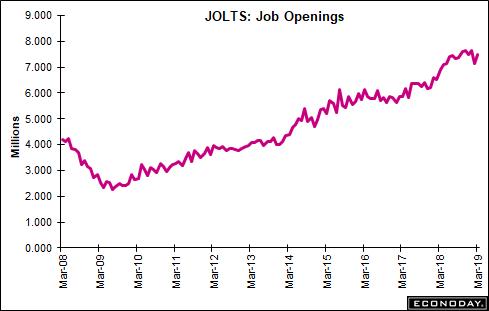 America needs more workers. Having more jobs than people available to fill them can create two problems: (1) growth stalls due to the lack of workers or (2) companies bid up wages causing inflation. One solution is to increase legal immigration and guest-worker visas.
The New Jobless Claims chart shows signs of a bottom, an event that has historically revealed the end of recoveries. The four-week moving average hit a low of 201,500, the week of April 13, and bounced up to 220,250 three weeks later.
Pay attention to this metric going forward. Press releases from the Bureau of Labor Statistics are published every Thursday morning. As always, remember that a single data point does not create a trend. As with many economic metrics, turning points that denote a top or bottom in the business cycle are not clearly visible for some time.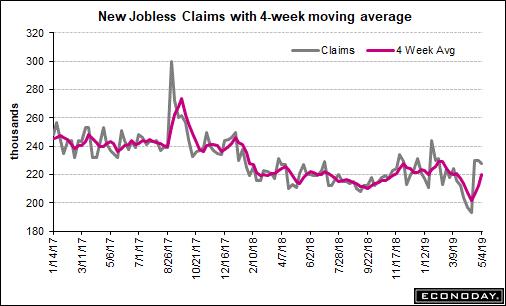 The Conference Board's Consumer Confidence Index April reading bounced 5.1 points to 129.2, continuing its recovery from the government shutdown. This survey consists of two components: (1) perceptions of the current business and employment conditions and (2) expectations for six months in the future. The former rose 5.3 points to 168.3, while the latter jumped 4.7 points to 103.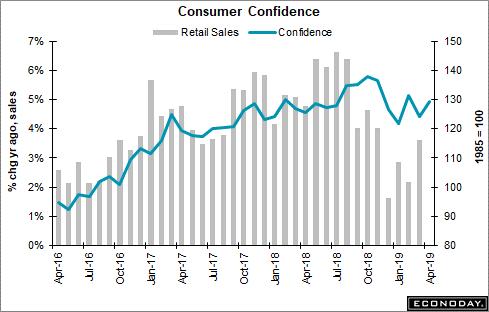 Manufacturing
The ISM Manufacturing Index turned in its weakest monthly performance in nearly two years. The April number came in at 52.8, 2.5 points below March. Survey participants indicated that the expansion continued, but at the softest levels since 4Q 2016.
ISM's Employment Index dropped 5.1 points to 52.4. Manufacturers created only 4,000 jobs in April, the third consecutive month of flat hiring. The average hourly wage was $27.47, up by $0.52 or nearly 2 percent. The average workweek and overtime remained unchanged at 40.7, and 3.4 hours respectively.
Other index components in the red are New Orders, down 5.7 points to 51.7; Export Orders, down 2.2 points to 49.5. The latter is below 50, the level that indicates a declining economy.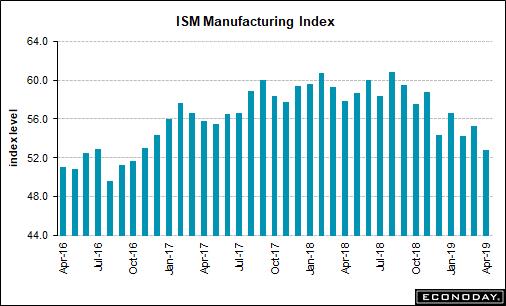 Of the 18 industry sectors, 13 grew in January, led by Textiles and followed by Furniture & Related Products. The five declining industries included Wood Products.
Given this recent weakness, this important sector bears watching. The next ISM Manufacturing Index will be reported on June 1, with subsequent releases on the first day of every month
Housing
More bad news for the housing sector: the U.S. homeownership rate fell in 1Q for the first time in two years from 64.8 percent to 64.2 percent. The earlier recovery of this metric benefited from a strong job market, but was hurt by higher mortgage rates in late 2018. In addition, a shortage of affordable homes on the market and resulting high prices have frustrated prospective buyers.
Three critical prerequisites enable a healthy housing market: (1) a strong job market for young buyers, (b) reasonable borrowing costs, and (3) an adequate inventory of affordable starter homes. Without these conditions, first-time buyers cannot enter the market. Without a buyer, sellers of starter homes cannot move up market. At the moment, only the first two conditions are in place.
Housing Starts in March ran at an annual rate of 1.139 million, the weakest in two years. Year on year starts are down 14.2 percent. The only good news was an 11.9 percent jump in completions of single-family homes that increased the supply of new homes for sale. But as indicated by the 5.1 percent decline year-on-year in single-family permits, builders are slow in breaking ground on new construction. Watch for more optimism from builders in April Starts report on May 16.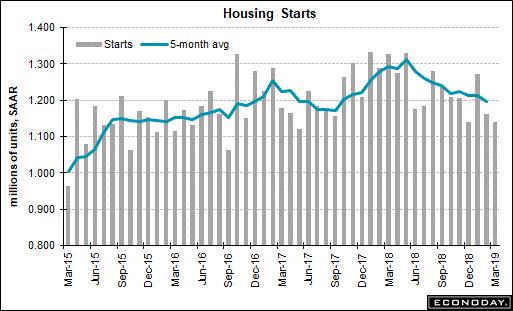 New Home Sales came in at an annual rate of 692,000 in March, the best rate since November 2017. That performance was largely driven by falling mortgage rates, which have dropped from nearly 5 percent in 4Q 2018 to just over 4 percent today. Given the increase in completions in March, the inventory of homes for sale remained healthy at a 6.0 month supply.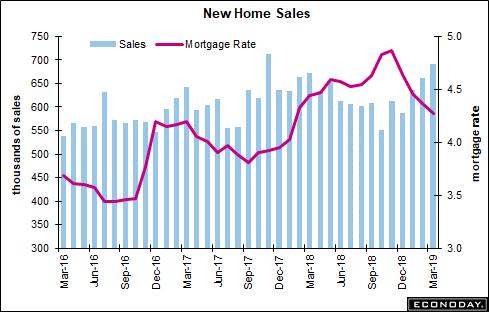 Look at the explosion of existing home sales in February on the chart below. After jumping 11.8 percent to an annual rate of 5.510 million in February, Existing Home Sales slowed only 4.9 percent to 5.210 million in March. While a home run, even this strength unfortunately does not return sales to the 5.563 million annual rate reached in December 2017.
The elevated rate of sale is motivating more owners to put their homes on the market. In March the inventory rose 3.1 percent to a much needed 1.680 million, creating a slender 3.9 month supply.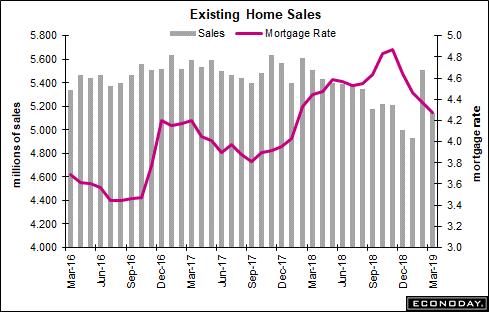 Bottom Line: Performance in the sectors considered critical to the hardwood industry remains uneven:
GDP continued its long run of job creation with openings exceeding the number of available workers.
Consumer Confidence bounced up as predicted following the government shutdown's end.
Interest Rates are not limiting economic activity.
Manufacturing cooled notably due to slower export sales. Hiring in that sector was barely positive.
Housing continues to underperform. Starts of new homes hit a two-year low, despite strong sales of new and existing homes.
Jobless Claims may have turned higher – an event that historically marks a bottom in the economic cycle.
TrendTracker's Opinion: The U.S. economy is not firing on all cylinders. A trade war with China risks tipping current conditions into a sharp downturn.
Art Raymond