TrendTracker Update - May 2018
By Art Raymond
Our Goldilocks Economy
Business investment led the economy to a solid 1Q2018 performance in spite of housing's lack of leadership, but the labor shortage is more worrisome.
Not too hot, not too cold, but just right. That's a Goldilocks economy, a period in time of low unemployment, inflation, and interest rates; increasing asset values; and steady GDP growth. Such a condition is the aim of central bankers at the Federal Reserve. But given the many variables that create the economy, such perfection is difficult to achieve and maintain.
The primary tool employed by central bankers is monetary policy, the use of interest rates to balance growth and inflation. Raising rates too early in the business cycle can cause a slowdown. If the Fed raises rates too late, higher inflation can result. By luck or skill, the Fed has engineered our present Goldilocks economy.
The Fed has been aiming for 4.5 percent unemployment and 2 percent inflation. As noted below the headline unemployment rate is now 3.9 percent. As reported by the Personal Consumption Price Index, inflation is running at 2.0 percent year-on-year. Currently the Fed is scheduling two quarter-point increases in short-term interest this year. More increases may be called for if inflation continues to rise and unemployment fall. Keep your eyes on the Fed.
Updating important metrics…
U.S. Gross Domestic Product
Economic growth in 1Q2018 declined to a 2.3 percent annualized rate from last quarter's 2.9 percent. On the bright, side this performance beat 1Q2016's 0.6 percent and 1Q2017's 1.2 percent. Remember too that the average annual growth rate has been below 2 percent since 2000.
Looking at key components of GDP:
Business Spending on buildings, equipment, and software jumped by 6.1 percent. That number exceeded the 4.6 percent growth averaged over this recovery. Much of this spending is aimed at improving labor productivity, a partial cure for the current labor shortage.
Consumer Spending grew by a subdued 1.1 percent, the lowest since mid-2013. Purchases of durable goods declined 3.3 percent, reflecting lower auto sales.
Residential Investment contributed nothing to the quarter's growth. More on the housing sector later in this report.
First quarter GDP has been weaker than the other quarters in recent years. Economists suggest that the statistical adjustments made to reduce seasonal impacts may be the culprit. In any case, this year's 1Q was the best since 2015. And this expansion becomes the second longest on record this month.
Employment
The U.S. economy continues to generate new jobs. Payroll employment increased by 164,000 in April and has averaged 200,000 for the four months of this year. April became the 91st consecutive month of job creation – the longest streak on record. The headline Unemployment Rate dropped to 3.9 percent after six months at 4.1 percent. That's lower than the 4.5 percent the Fed considers full employment and below which the risk of inflation increases.
The rate has been below 4 percent during only three occasions in the last 70 years: during the Korean War in the early 1950s, the Vietnam War in the late 60s, and the boom of 2000. In all three instances recession soon followed.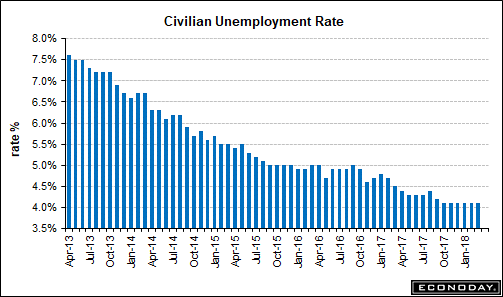 April's numbers provide some evidence that an adequate supply of labor exists to control wage inflation:
a) The Employment-Population Ratio rose to 60.3 percent, little changed in the past year. That's still well below its peak of 63.4 percent, reached in 2007 just before the last recession.
b) The Labor Force Participation Rate came in at 62.8 percent. This statistic reports the percentage of the working age population either employed or actively seeking a job. It reached an all-time high of 67.30 percent in January 2000.
c) The Total Unemployment Rate declined to 7.8 percent, down from 8.6 percent a year ago. This metric, known as U-6, is based on a broader definition of employment status that includes (i) persons who are currently not working nor looking for work but indicate that they are available for a job and (ii) part-time workers who want full-time work but have settled for a part-time position. Many economists consider U-6 the most accurate measure of the under-employed. Last month the Bureau of Labor Statistics reported 1.4 million not looking for work and 5.0 million persons in the part-time category.
While those statistics may indicate the existence of under-utilized labor, the fact remains that many in that group lack the necessary skill sets or are retired baby boomers. Four data points show that labor scarcity is already upon us:
a) A 1.2 million person gap existed between job openings and new hires according to the March JOLTS Report – That's the largest on record and evidence that companies are having difficulty in finding workers with the right skills.
b) The four-week moving average of persons filing new unemployment claims fell to 210,500 according to the May 10 Initial Jobless Claims Report – That 49-year low indicates that companies are holding on to their current workers.
c) The average hourly wage rose by 2.6 percent to $26.84 over the last twelve months, according to the April Employment Situation Report.
d) The average workweek in the manufacturing sector increased to 41.1 hours, including 3.7 hours of overtime.
As always, keep your eyes on the Fed. Two quarter-point increases in short-term interest rates are planned for 2018. Will those moves be enough to keep inflation and growth in balance?
Manufacturing
The April ISM Manufacturing Index came in at 57.3, down by two points from March and last September's 13-year high of 60.8. Remember that a score of 50 or above signifies growth.
The Index is calculated from survey data collected from purchasing managers at 300 U.S. manufacturers about new orders, production, employment, supplier deliveries, and their inventories. The survey is qualitative, and its questions address the general direction of those five components. A score of 50 or above signifies growth in the manufacturing sector.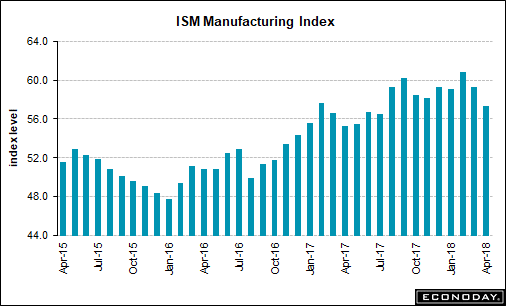 In April, weakness was experienced in new orders (down 0.7 points), production (down 3.8 points), employment (3.1 points), and new export orders (down 1.0 points). Strength was seen in prices (up 1.2 points) and order backlog (up 2.2 points), its highest reading since May 2003. Seventeen out of the 18 industries included in the Index reported growth last month.
Housing
In spite of a strong economy, rising take-home pay, and a positive buyers' attitude toward homeownership, residential construction made no contribution to GDP growth in 1Q2018. Historically, housing accounts for 15 to 18 percent of GDP growth, and the sector has led the U.S. economy out of past recessions. In the current recovery, that leadership has been lacking with the result being the slower-than-normal GDP growth since June 2009.
In March, Housing Starts thankfully rose to an annualized rate of 1.319 million, up 1.9 percent from February and 10.9 percent from the same month last year. Multi-family starts jumped to a rate of 452,000 units, 14.4 percent above February. But the single-family category fell 3.7 percent to 867,000 units versus February.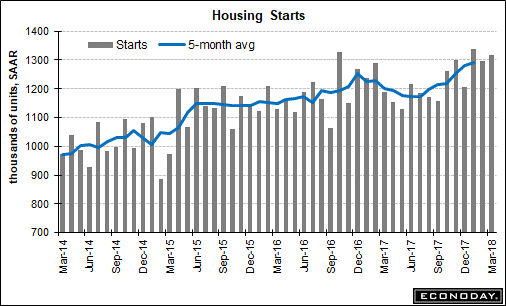 The good news is found in the Permits data which came in at 1.354 million units. On the other hand, Completions fell 5.1 percent to only 1.214 units – bad news for the supply of new homes for sale.
As a result of rising mortgage rates and the new tax law's less favorable treatment of interest expense, fewer homes are being built per household than any time in the last 60 years. The current rate for a 30-year loan is 4.55 percent versus 3.95 percent in January. Shortages of lumber have translated into higher new home prices. Both first-time buyers and those seeking to move up are being left out of the market, as prices rise twice as fast as incomes.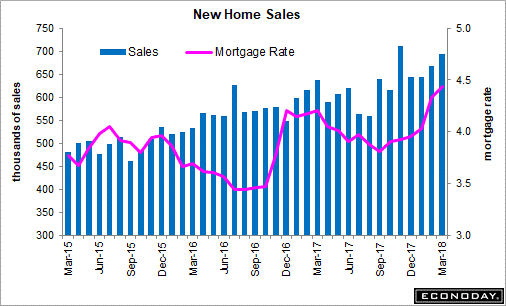 Surprisingly, March New Home Sales bounced by 4 percent to an annualized rate of 694,000 units. That's just below the recovery high of 711,000 units set last November and 8.8 percent versus last March. Netting sales against completions leaves an inventory of 301,000 new homes for sale or 5.2 months of supply.
Existing Home Sales rose 1.1 percent in March to an annualized rate of 5.6 million, but declined by 1.2 percent versus the same month last year. More homes came on the market creating an inventory of 1.67 million units, a 3.6 month supply. Not surprisingly, this lack of supply resulted in a 3.9 percent increase in the median price over February and 5.8 percent versus last March.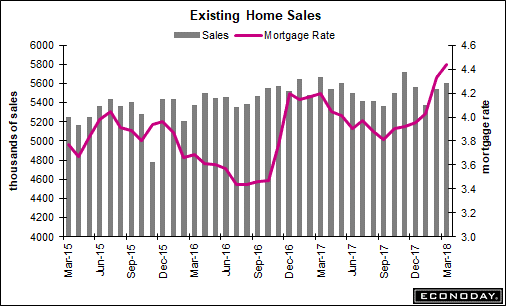 One Man's Opinion: Trump's Proposed Trade Policy
A survey conducted by the Institute for Supply Management, the organization that publishes the ISM Manufacturing Index, has revealed a significant concern that the President's threats to increase import tariffs on selected products will harm U.S. manufacturers' competitiveness. Many U.S. companies utilize imported raw materials like steel and aluminum. Raising tariffs will, of course, increase prices for U.S. made products including those exported to foreign buyers.
The TrendTracker Report believes in free trade. Ricardo's theory of comparative advantage came across loud and clear in economics class. He advocated that if two countries capable of producing two commodities engage in free trade, each country will increase its consumption by exporting the product for which it has a comparative advantage while importing the other.
The theory assumes a difference in labor productivity exists between the two countries. As importantly, the two countries must be fair traders that follow the rule of law. In 2017 the U.S. ran a bilateral trade deficit in goods of $375 billion with China. Is China a fair trading partner?
Peter Navarro, a director of the White House Trade Council, answered that question in his oped China's Faux Comparative Advantage, in the April 16 edition of The Wall Street Journal. Following are the highlights of his column.
China, beyond its dominance in products such as appliances, computers, and ships threatens to control the industries of the future eg, artificial intelligence, robotics, and autonomous vehicles – technologies that have strategic implications.
China's advantage is the result of a government-directed non-market economy that doesn't follow the rule of law and steals intellectual property and forces the transfer of foreign technology as a requirement for access to its vast market. These illicit practices include cyber espionage and enable Chinese companies to move up the innovation curve faster than competitors and pay less for research and development.
China erects high tariff barriers eg, car tariffs 10 times those of the U.S. and imposes non-tariff barriers like intrusive licensing requirements and foreign ownership restrictions.
China provides its companies subsidized land and capital, lucrative tax preferences, and export subsidies. As importantly, their currency is managed to keep it undervalued.
China operates three of the world's ten-largest sovereign wealth funds that seek to purchase America's innovation at distortive prices. An example of their aggressiveness is the purchase of nuclear power technology from Westinghouse. China is now constructing reactors built using Westinghouse's technology in Pakistan and Romania and scheduling to erect them in Argentina, Britain, and Iran. Such acquisitions often benefit the Chinese military.
Often it pays to understand the facts as well as the theory…
Bottom Line: With this recovery soon to be the second-longest in history, the economy is in little-traveled territory. The shortage of qualified labor continues as a primary concern, along with inflation, which is showing signs of escalating. Pressure on the Fed to implement a plan for interest rates that maintains growth is intensifying. In the fairy tale when the bears return home, Goldilocks jumps out of a window and is never seen again. Let's hope our Goldilocks economy doesn't experience a similar end.