TrendTracker Update - February 2019
By Art Raymond
Climbing the Wall of  Worry
With reports from the global economic front filled with pessimistic news, can the U.S. economy keep rolling along?
The China Effect
With buyers in China accounting for over 53 percent by value of U.S. hardwood lumber exports through October 2018, your industry knows full well the importance of a healthy Chinese economy. You are not alone. Companies like Apple and Caterpillar as well as European and other Asian firms are major trading partners with China.
Unfortunately growth in the Chinese economy has fallen to a 30-year low. That poor performance concerns economists, many of whom are downgrading U.S. growth predictions for 2019. The result is forecasted to end the three-year boom in exporting by U.S. manufacturers.
Their concern includes whether the Chinese central bank, their equivalent of our Fed Fed, can provide the huge stimulus programs that have maintained growth there for 30 years. Simply put, the U.S. economy is more vulnerable than ever to a Chinese hiccup.
China is the world's second-largest economy having attained that rank through exporting on the back of its vast low-cost work force. But over the past three years its export trade surplus has fallen by a third. The majority of growth comes from its burgeoning consumer economy. That shift has resulted in the doubling of U.S. exports to China.
The story of their rapid growth in furniture manufacturing illustrates how China became a major source country for furniture and other value-added wood products. From 1995 to 2004 its furniture exports to the U.S. grew by thirteen-fold to $8.68 billion. The primary drivers of that amazing growth were, of course, labor costs and acceptable productivity as well as inexpensive ocean transport, a fixed rate of currency exchange, and government incentives for creating jobs for its masses.
The low prices enabled by this bucket of benefits created 20 years or so of competitive advantage for Chinese factory owners. Other countries such as Vietnam with even lower labor costs saw the 'China miracle' and have achieved similar success. U.S. producers of furniture and numerous other products transferred to China the manufacture of finished merchandise ready to sell to their U.S. customers. Hundreds of factories here were shuttered, and millions of jobs lost. The most painful result was the rending of the social fabric of small town America where few other employment opportunities existed. As a result two and three generations of families in those communities have never been gainfully employed. The U.S. consumer has benefited through lower purchase prices, but no one can measure the human costs.
This phenomenon was termed globalization. Its glory days were 1995 to 2015. According to The Economist magazine and consultants like McKinsey, its advantages are fading: the differential between the fully loaded costs of imported and domestically produced goods is not as compelling. Shorter supply chains closer to end markets have proven beneficial for inventory management and customer order fulfillment time. The result experts say is a boomlet in reshoring production to the U.S.
Some politicians believe this resurrection can be hastened by higher tariffs. However supply chains are not easily nor quickly modified to accommodate changing economics. Even when reshoring production to the home market becomes viable, new factories cannot be built overnight. And where in the U.S. are the workers for such new operations to be found?
Remember too the outcome of anti-dumping duties slapped on Chinese-made bedroom furniture to protect U.S. producers. Chinese manufacturers simply moved their plants to Vietnam. That country is now the second largest supplier of imported furniture to U.S. consumers.
For those reasons TrendTracker does not believe reshoring will soon become a tidal wave. Notwithstanding a trade war, China will continue consuming U.S. hardwoods in products manufactured there. Only more of those products will be purchased by the 1.4 billion-strong population there. The Chinese export giant is fast becoming a consumer economy.
The U.S. Update: Condition Yellow
Economic results in the U.S. are decidedly mixed coming into the new year. Looking at the key indicators for our hardwood economy:
U.S. Gross Domestic Product
The first estimate of Q4 GDP had not been released before our deadline due to the government shutdown. As a substitute The Wall Street Journal polled 50 economists for their opinions. Their consensus: 2.6 percent annualized rate versus the 3.4 percent achieved in Q32018. The consumer led the way, up 3.5 percent. Lower net exports and residential investment pulled down the quarter's performance.
The poll concluded that Q1 2019 growth will decline to 1.8 percent with Q2 following at 2.5 percent.
Will the government shutdown impact the U.S. economy? Probably not. The affected federal workers represent only 0.5 percent of the country's work force. According to the Hudson Institute their payroll runs about 0.1 percent of GDP. Doubling this number to account for government contractors gives us a very small share of GDP. Also remember that employees' paychecks will be fully restored.
History also provides a comparison. The shutdown in 1995-96 impacted the entire federal government. However GDP growth in 1996 rose to 3.8 percent from 1995's 2.7 percent. If growth does wane in 2019, the culprit will be weakness beyond our border.
Interest Rates
Citing the growing risk of the aforementioned slowdown in the U.S., the Fed indicated in late January that further interest rate increases are halted for now. That shift marked a full reversal from December's quarter-point increase in rates at 2.25 to 2.5 percent coupled with two additional rate increases later this year. Bolstering that decision is the lack of inflation above their 2.0 percent target. While average hourly wages rose to a year-on-year rate of 3.2 percent, higher wages thus far have not fed higher prices.
Employment
The U.S. economy continues to generate new jobs. Payroll employment increased by a whopping 304,000 in January. Last month became the 100th consecutive month of job market growth, the longest streak on record. In 2018 the economy added a net of 2.674 million jobs.
The headline Unemployment Rate rose to 4.0 percent accounting for some of the furloughed federal government workers. This uptick ends the streak of months below 4.0 percent. Rates that low have historically preceded three recessions in the 1950s, the late 60s, and 2000.
The number of unemployed persons totaled 6.5 million.
The construction and transportation sectors both added 52,000 jobs followed by a 30,000 increase in professional/business services and 13,000 in manufacturing. The latter shows continued solid strength in that important sector.
The share of Americans working or seeking a job as measured by the Labor Force Participation Rate came in at 63.2, up 0.3 percentage points from November. This statistic reports the percentage of the working age population either employed or actively seeking a job. It reached an all-time high of 67.3 percent in January 2000.
The Employment–Population Ratio changed little in January to 60.7 percent and has risen only 0.5 percentage points in the past year. It reached a peak of 63.4 in 2007 just prior to the onset of the Great Recession.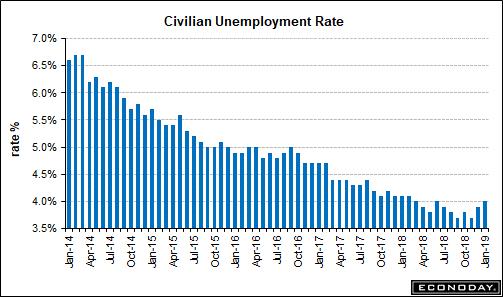 The Total Unemployment Rate came in at 8.1 percent, its highest since last February. This metric, known as U-6, is based on a broader definition of employment status that includes (i) persons who are currently not working nor looking for work but indicate that they are available for a job and (ii) part-time workers who want full-time work but have settled for a part-time position. Many economists consider U-6 the most accurate measure of the under-employed. In January the former category included 1.6 million, up from 0.1 million from last year. The latter group totaled 5.1 million persons, up 0.5 million in the past year owing primarily to furloughed government workers.
As noted above the average hourly wage rose by 3.2 percent over the last 12 months. That's up 85 cents to $27.56. The average work week for all non-farm employees remained unchanged in January at 34.5 hours.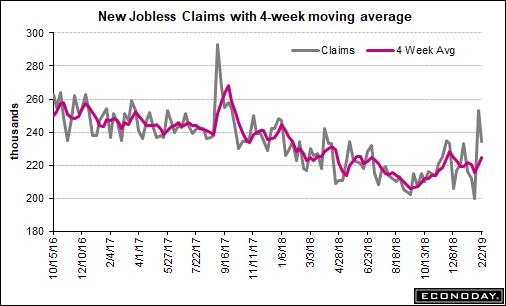 Jobless Claims hit a 50-year low in mid-January then bolted higher in the last week of January to 253,000, up 53,000. That's the highest total in more than 18 months. Subtracting the effects of the government shutdown, this metric is signaling that demand for labor remains strong. Abnormal events like the shutdown argue for using the four-week average data points in lieu of the actual claims information to smooth out the volatility. Such distortion will impact the claims report for several weeks.
Jobless claims data, specifically the four-week average, have shown an uncanny ability to mark turning points in the U.S. economy. Keep a sharp eye for signs that claims have reversed course and are heading higher.
The Job Openings & Labor Turnover Summary – better known simply as JOLTS – will be published after our deadline. Last March the number of job openings exceeded the number of unemployed persons seeking work for the first time in the 19-year history of this metric. This metric is expected to continue indicating the existence of this severe labor shortage in its next release.
In spite of a strong job market, consumer confidence fell for the third consecutive month in January. The Conference Board's Consumer Confidence Index dropped to 120.2 from 126.6. Since October this important indicator has fallen 17.7 points, the largest three-month drop since October 2011. This survey consists of two components: (1) perceptions of the current business and employment conditions and (2) expectations for six months in the future. The recent downturn is blamed on the government shutdown, the sharp decline of the stock market late in 2018, and the general discontent with Washington's inability to govern.
Consumers, however, have retained their desire to spend during the next six months. In particular, plans to purchase a home are at the highest level since late 2017 while buying cars and major appliances also showed an uptick. Survey participants indicate that job opportunities are abundant and remain at multi-level highs.
With the government back in operation, most experts believe a quick bounce in consumer confidence will occur in the near term.
Manufacturing
Bouncing back in December from its lowest performance since November 2016, the ISM Manufacturing Index rose jumped 2.3 points to 56.6. Eight of 11 components grew with only Supplier Deliveries (slowing), Customer Inventories (too low), and Prices (decreasing) failing to follow suit.
Importantly the Production component increased 6.4 points to 60.5 and continued a positive growth trend of 29 months. New Orders rose 6.9 points to 58.2 to continue its growth run to 37 months. Reflecting softening economies around the world, Export Orders slowed to the lowest rate of growth in two years.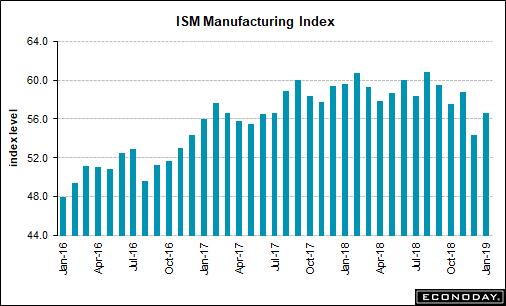 Of the 18 industry sectors fourteen grew in January led by Textiles and followed by Furniture & Related Products.
Survey respondents generally reported expanding domestic demand, declining exports, price contraction, and concern about tariffs.
Manufacturers created 13,000 new jobs in January led primarily by the durable goods sector. For the year 261,000 production jobs were added to U.S. payrolls. The work week slipped by 0.1 hour to 40.8 hours. Overtime decreased by 0.1 hour to 3.5 hours. Average weekly earnings have risen by 1.4 percent over the last 12 months to $1,110.
Housing
Plenty of jobs, moderate mortgage rates, a strong economy, and positive buyers' attitude toward homeownership are in place. But simply put, there's little demand. Experiencing its longest slump in four years, housing was the weakest sector of the 2018 economy.
With the Census Bureau on furlough, the monthly Housing Starts data scheduled for mid-January is unavailable. Looking therefore at the November 2018 data shows starts at a seasonally adjusted 1.256 million annual rate, up 3.2 percent over the previous month but 3.6 percent below the same month in 2017. That's well below the 1.55 million or so homes required to meet historic average demand.
As reported by the National Association of Home Builders (NAHB), November New Home Sales jumped by 16.9 percent from the previous month. The month's annualized 657,000 unit sales was well above the consensus forecast of 560,000. The Northeast and South led the way, but the West region was down 5.9 percent for the month and a whopping 25.9 percent for 2018. Overall year-on-year sales were off 7.7 percent. The inventory of homes ready to sell decreased to six months of supply.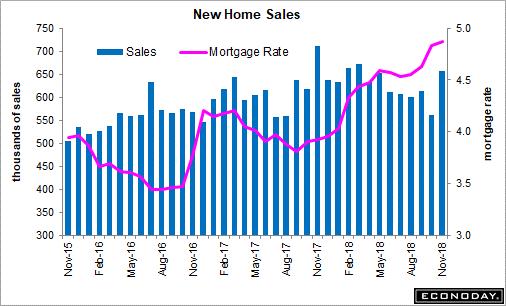 In the absence of the Census data TrendTracker turned to the NAHB's Housing Market Index (HMI) for a sense of homebuilders' optimism. The HMI compiles information from participating single family builders on their (i) present sales of new homes, (ii) sales of new homes expected in the next 6 months, and (iii) prospective buyer traffic in new homes. January's edition revealed a score of 70, up 5 points and its first increase since last October and second since May 2018. Not great but hinting at the possibility of a minor recovery.
Existing Home Sales showed a different story. In December sales of this category fell a whopping 6.4 percent versus the previous month to an annualized rate of 4.99 million. This performance is the lowest rate of sales in more than three years. Sales of single-family homes dropped 5.5 percent; multi-family homes, 12.9 percent.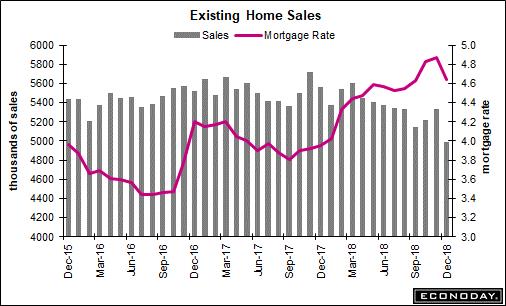 Fewer owners are putting their homes on the market. The supply of homes for sale declined 10.5 percent leaving only 1.55 million available. That's only a 3.7 month inventory. Equilibrium is considered a six-month supply. And importantly the shortage of starter homes aimed at first-time buyers has not abated.
Bottom Line
Performance in the sectors considered critical to the hardwood industry is uneven:
1. Job creation continues its long run. The economy continues its long run of job creation. Job openings exceed the number of available workers.
2. Consumer confidence is set to bounce higher following the shutdown's end.
3. Interest rates are not limiting economic activity.
4. The shutdown caused minimal pain in the overall economy but plenty of discomfort in the citizenry.
5. Domestic manufacturing is marginally cooling owing to lower export sales but is still hiring.
6. Housing, which in healthy times contributes 15 to 18 percent of GDP, continues to underperform.
7. Downturns in China and elsewhere will impair U.S. growth.
8. The streak of +3.0 percent growth in GDP will end but remain in the black.
The conclusion: no recession in the near-term.