TrendTracker Update - February 2018
By Art Raymond
Prepare For A Wild Ride
The economy is stronger than any time since 2005, but continuing growth depends on the Fed
In 2017 for the first time since the 2008-09 recession, all 45 major countries around the world grew their economies last year. This phenomenon has occurred only twice since 1980: (i) from 1984 to 1989 and (ii) from 2004 to 2007. During those periods the global economy rose by 4 percent annually according to the International Monetary Fund.
Based on that history many forecasters are predicting a second wind behind the current recovery that has already lasted over 8-1/2 years. The IMF estimates that actual global growth in 2017 was 3.7 percent and will improve to 3.9 percent in 2018.
U.S. Gross Domestic Product
GDP rose 2.6 percent on an annual basis in the 4Q2017. That performance trailed the 3.1 and 3.0 percent gains in 2Q and 3Q respectively but exceeded the 1.2 percent increase in 1Q. Output for the full year came in at 2.3 percent compared with 1.5 percent in 2016. The Federal Reserve now forecasts a repeat performance in 2018. Some economists are more optimistic.
Digging into the numbers underlying the 2.6 percent headline rate reveals strength across the economy:
Consumer Spending rose 3.8 percent with durable goods purchases eg, furniture and autos, jumping by 14.2 percent, the fastest pace since 2009.
Residential Investment increased 11.6 percent
Business Equipment Investment grew by an 11.4 percent annual rate in 4Q. Combined with 3Q's 10.8 percent that category turned in its best performance since mid-2014.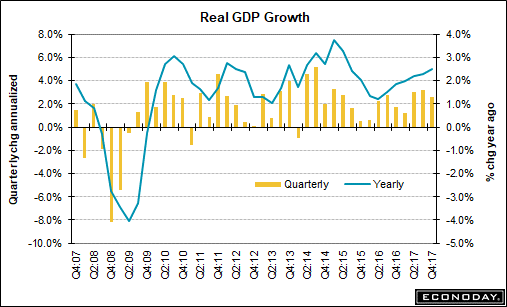 Two categories pulled down the 4Q results: (i) an increased trade deficit owing to imports rising faster than exports and (ii) declining inventories. Excluding these two categories 4Q GDP comes in at a strong 4.3 percent. Look for these two factors to self-correct in 1Q2018. As the rest of the world continues growing, the resulting escalation in exports should boost trade's contribution to GDP. Stronger sales should also call for a buildup in inventories.
Employment
The U.S. economy continues to generate new jobs. With payroll employment increasing by 200,000, January became the 88th consecutive month of job creation – the longest streak on record. The headline Unemployment Rate remained at 4.1 percent for the fourth consecutive month. A year ago that rate was 4.8 percent. The job market is now well below the 4.6 percent headline rate the Federal Reserve considers full employment.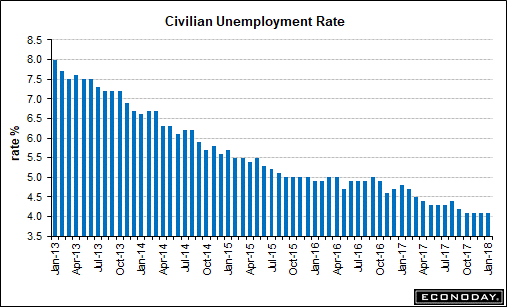 Other employment measures argue that some slack remains in the job market:
a) The Employment-Population Ratio notched its third month at 60.1 percent. That's still well below its peak of 63.4 percent reached in 2007 just before the last recession.
b) The Labor Force Participation Rate has settled at 62.7 percent for four consecutive months. This statistic reports the percentage of the working age population either employed or actively seeking a job. It reached an all-time high of 67.30 percent in January 2000.
c) The Total Unemployment Rate declined to 8.2 percent in January, down from 9.4 percent a year ago. This metric, known as U-6, is based on a broader definition of employment status that includes (i) persons who are currently not working nor looking for work but indicate that they are available for a job and (ii) part-time workers who want full-time work but have settled for a part-time position. Many economists consider U-6 the most accurate measure of the under-unemployed. For January the Bureau of Labor Statistics reported 1.7 million not looking for work and 5.0 million persons in the part-time category.
On a purely headcount basis the economy is not yet running at full employment. However, the problem faced by most companies is the availability of trainable and skilled workers. The pool of qualified workers is simply running dry.
In 2017 job openings jumped by nearly 5 percent. But most of that increase came in the first half. The number of job openings counted in the December JOLTS report declined by 2.8 percent from November, the 3rd drop in the last 5 months.
Is the job market cooling off? Keep an eye on the next Employment Situation report on March 9 for an early indication.
Companies are paying more to attract and retain workers. Losing a skilled employee is often more costly than giving raises. Over the last 12 months the average hourly pay rose by 2.9 percent to $26.74. Fear that rising wages will feed inflation is one reason behind the recent correction in the stock market.
According to the February 8 Initial Jobless Claims report, the four-week moving average of persons filing new unemployment claims fell to 224,500, a new 45-year low.
In the manufacturing sector, the average workweek declined by 0.2 hours to 40.6 hours in January, and companies added 15,000 new hires. Over the past year manufacturers hired 186,000 new workers.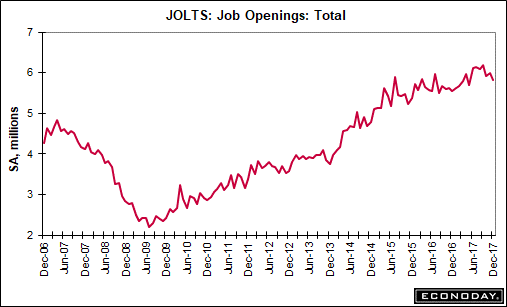 So far the tight labor market has yet to ignite price inflation beyond the Fed's 2 percent annual target. However without doubt the positive data in the GDP, Employment Situation, Initial Jobless Claims, and JOLTS reports have increased the probability of a Fed rate increase at their next meeting on March 20-21.
Manufacturing
The January ISM Manufacturing Index came in at 59.1, only slightly below December's 59.3 and September's 60.8, a 13-year high.
The Index is calculated from a survey data collected from purchasing managers at 300 U.S. manufacturers about new orders, production, employment, supplier deliveries, and their inventories. The survey is qualitative, and its questions address the general direction of those five components. A score of 50 or above signifies growth in the manufacturing sector. A level above 43 but below 50 indicates that the U.S. economy is still growing even though the manufacturing sector is contracting. Any level below 43 indicates that the economy is in recession.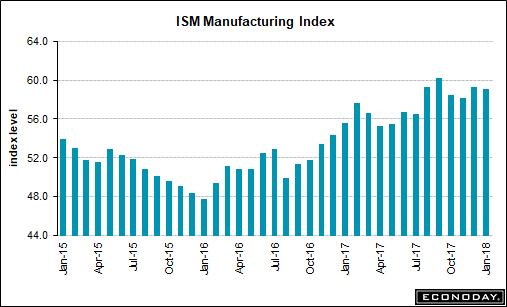 In January strength was seen in new orders at 65.4, the best in nearly 10 years. Backlogs, production, and export orders continued to expand. Fourteen out of the 18 industries included in the Index reported growth last month. Of the four industries contracting were Wood Products and Furniture & Related Products.
Input costs rose to 72.7, the highest level in 6-1/2 years. Prices increases occurred across all industries – another indication that higher inflation may be just over the horizon.
The Index's employment question, which indicates the direction of hiring, declined nearly 4 points to 54.2 indicating slower yet strong increases in hiring.
A continuing weak spot in the general economy as well as in the manufacturing sector is low labor productivity growth. For 2017 that metric came in at 1.2 percent across the economy. That performance matched the latest 10-year average but fell below the 2.1 percent averaged since 1947.
In the manufacturing sector productivity increased by only 0.7 percent in 2017. Productivity in factories has grown less than 1.0 percent annually since 2010. This scenario typically reflects the low quality of employees and/or the dearth of investment in labor-saving equipment.
As always, poor productivity eventually translates into lost competitiveness and a lower standard of living for all Americans.
Housing
The monthly 2017 housing results prove the adage that one data point doesn't constitute a trend. Obvious in the three graphs of housing data is the month-to-month volatility of the residential home sector.
Housing Starts in the year's final month plummeted 8.2 percent to an annualized rate of 1.192 million. The single family segment fell 11.8 percent to an 836,000 rate.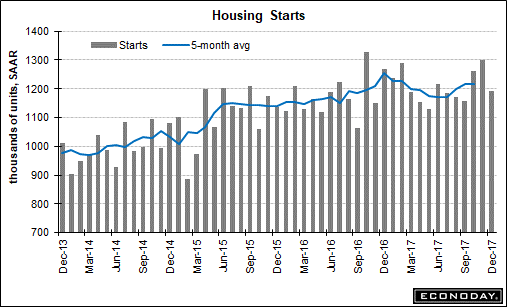 The good news is found in the Permits data which came in at 1.302 million including 881,000 single family units and in Completions which added 818,000 units to the much-needed inventory of homes for sale.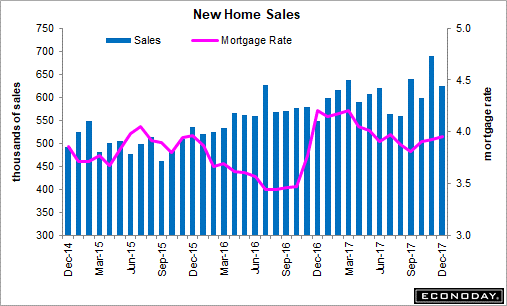 Even though New Home Sales declined 9.3 percent to an annualized rate of 625,000 units, December's performance is the fourth best since the recovery began and followed November's 689,000 annual rate, which is the best month post-recession.
The inventory of new homes for sale rose to 5.7 months, up from 4.9 months in November. This low stock available for purchase is a major contributor to the drop in sales.
All in all, given the lack of supply that persisted through the year, 608,000 new homes were sold in 2017. That's the highest level since 2007, a statistic that drove homebuilder confidence in December to an 18- year high. As a result of the optimism among both builders and buyers, CoreLogic, a property data and analytics company that covers the housing market, is forecasting a 5 percent increase in starts in 2018.
In spite of a 3.6 percent decline in December, 2017 was the best year for Existing Home Sales since the pre-recession boom. Helping to achieve that performance was November's annualized sales rate of 5.780 million units.
According to the National Association of Realtors, total housing inventory at the end of 2017 dropped 11.4 percent to 1.48 million existing homes available for sale, is now 10.3 percent lower than a year ago, and has fallen year-over-year for 31 consecutive months. Unsold inventory is at a 3.2-month supply at the current sales pace, which is down from 3.6 months a year ago and is the lowest level since NAR began tracking these data in 1999.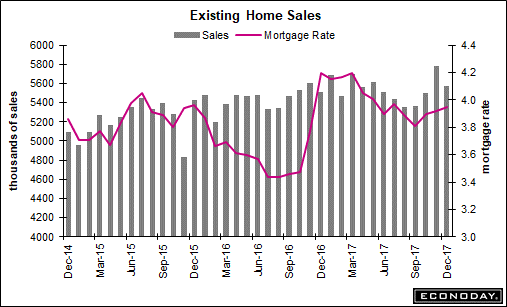 The best news for the housing sector is the Millennials' emergence from renting to owning. That group, aged 18 to 34 and 75.4 million strong, forms the largest generation since the Baby Boomers. Their decision to become homeowners was delayed by strict mortgage underwriting terms, sluggish salaries, and a general uncertainty about an economy that has suffered through a sub-par recovery.
These conditions produced a steady decline in the homeownership rate to a 50-year low of 62.9 percent in 2Q2016, seven years after the recession officially ended. The 4Q2017 rate was 64.2 percent, up from 63.7 percent a year earlier. For households headed by a 35-year old the rate climbed to 36 percent from 34.7 percent, the largest increase of any age group.
The sale of entry-level homes of the size and price demanded by first-time owners is critical to the overall residential real estate market. If current owners of homes in this category cannot sell, they cannot move up to a larger house. The housing sector needs an adequate inventory of affordable starter homes to enable owners to move up market and create demand for larger houses. Unfortunately home prices are rising at an annual rate of 6.2 percent, about 3 times the inflation rate. With interest rates on the rise, the cost of homeownership could become prohibitive for many prospective buyers. Such a situation translates to lower sales of furniture and other household goods.
In 2017 about 1.5 million owner households were added while renter households fell by 76,000. Home ownership rate remains below 65 percent, the long-term average, and well below the 69 percent level of the pre-recession years.
Where is the U.S. economy headed?
The U.S. economy is stronger today than any time since 2005. GDP, Employment, Manufacturing, and Housing are good but not great. GDP appears headed for 3+ percent growth. Most everyone who wants work can find it. Factories are busy. Wage earners are spending their paychecks. Homebuilding is moving, if slowly, toward the 1.5 million-per-year rate that will meet demand.
After nine years and $2 trillion of quantitative easing, we are only now breaking out of the weakest recovery in modern history. The key Fed Funds Interest Rates during that period ranged from zero to 1.25 to 1.5 percent set last December. By comparison the average rate from 1971 through 2007 was 5.75 percent. Cheap money risks creation of overvalued assets. The most visible indicator of that phenomenon is the stock market which prior to the early February correction was priced at all-time high P/E ratios. Few times in history have investors paid more for company earnings.
With the Fed beginning to unwind its QE programs concurrently with a now-growing economy, interest rates are bound to rise. The era of extremely low interest rates is over. But its legacy may be painful as highly-leveraged businesses, investments, and ventures come a cropper as rates increase.
The Fed's dual mandate is maximizing employment while stabilizing prices. That goal requires a high-wire balancing act in the best of conditions. Complicating the situation is the recent $1.5 trillion tax cut. Intuitively more money from lower taxes in business and consumer pockets will stimulate purchases of equipment, homes, and other goods and services. If those funds are invested in cost-saving productivity improvements, rate increases can be subdued. On the other hand, if such spending results in unacceptably higher inflation, the Fed will push rates upwards as was done in the early 1980s. Just how much and when are the questions that cannot be answered with certainty.
Bottom Line: Since 2009 the Fed has been unable to achieve the 2 percent inflation rate deemed to be appropriate for a healthy economy. This inability fails to engender confidence that a panel of academicians alone can effectively manage the economy by tweaking the dials of monetary policy. As noted in last November's Update, the global economy is entering uncharted waters. The February 10th edition of The Economist said "Whether the outcome is boom or bust, it is going to be a wild ride." Keep all ten fingers crossed and your magic talisman close at hand.