TrendTracker Update - August 2018
By Art Raymond
MIA: Housing
While the recovery from the Great Recession roars into its 10th year, the housing sector struggles to reach its norm
Our Goldilocks economy, with its low unemployment, inflation, and interest rates, continues. In spite of the many variables that interact to form our economy, the Federal Reserve has managed to meet its dual mandate: maximize employment and stabilize prices. At nine years, the recovery from the Great Recession is the second-longest since World War 2. Only the 1990s and its ten consecutive years of growth is longer. Can the Fed's magic continue?
U.S. Gross Domestic Product
In 2Q2018, the U. S. economy notched 4.1 percent annual growth, as measured by GDP, up from 2.2 percent in Q1. Consumer spending, which accounts for roughly two-thirds of our economy, was the primary driver contributing 2.7 percentage points in the quarter. Economists noted the recent tax cuts along with strong hiring, as the sources of higher spending. However consumers look to be spending forward as evidenced by the doubling of consumer loan volume and the decline in the personal saving rate to 3.2 percent from 3.8 percent a year ago.
More importantly, inflation rose to 2.9 percent, its highest rate in over six years.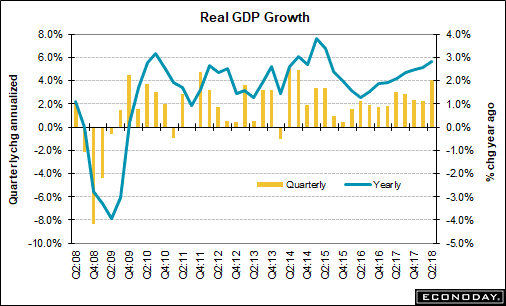 Positive and negative contributors to the Q2 result were:
Net exports - which added 1.1 points to growth due to a surge in soybean shipments as the market readies for the Chinese tariff on imports.
Non-residential spending on commercial construction and equipment - which continued its contribution by adding 1.0 points albeit less than in 1Q.
Lower inventories - which caused a 1.0 point decline in GDP. Note that a drop in inventories typically translates to higher future GDP as stocks are replenished.
Lower residential fixed investment ie, housing - which subtracted 1.1 percentage points.
Note that the July number is the first estimate of 2Q GDP. As data are collected and refined, the performances of the various elements will be revised in August and September. Stay tuned for the second estimate on August 29. While the headline number was excellent, the chance for significant revision is strong.
Employment
The U.S. economy continues to generate new jobs. Payroll employment increased by 157,000 in July and has averaged 215,000 per month this year. By comparison for the first seven months in 2017, the average was only 184,000. July became the 94th consecutive month of job creation – the longest streak on record. The headline Unemployment Rate dropped to 3.9 percent, just above the 18-year low of 3.8 percent set in May.
As noted in the April Update, the unemployment rate has been below 4 percent during only three occasions in the last 70 years: during the Korean War in the early 1950s, the Vietnam War in the late 60s, and the boom of 2000. In all three instances recessions soon followed.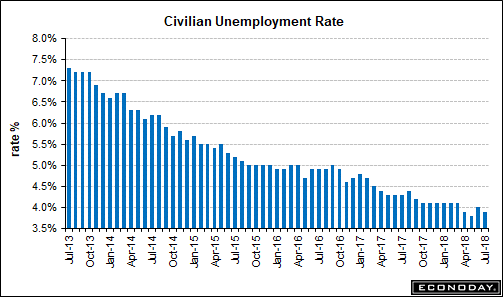 The share of Americans working or seeking a job as measured by the Labor Force Participation Rate remained at 62.9 percent and unchanged this year. This statistic reports the percentage of the working age population either employed or actively seeking a job. It reached an all-time high of 67.30 percent in January 2000.
The Employment–Population Ratio at 60.5 percent changed little in July, but has increased by 0.3 percentage points in 2018. That's the highest rate since January 2009 - in the middle of the Great Recession - but well below its peak of 63.4 percent reached in 2007.
The Total Unemployment Rate declined to 7.5 percent, down from 8.5 percent a year ago. This metric, known as U-6, is based on a broader definition of employment status that includes (i) persons who are currently not working nor looking for work but indicate that they are available for a job and (ii) part-time workers who want full-time work but have settled for a part-time position. Many economists consider U-6 the most accurate measure of the under-employed. In July, the former category included 1.5 million, little changed from last year. The latter group totaled 4.6 million persons.
The average hourly wage rose by 71 cents to $27.05 over the last twelve months, according to the July Employment Situation Report. That's an increase of 2.7 percent. The average work for all non-farm employees decreased by 0.1 hours to 34.5 hours. In the manufacturing sector, the work week was 44.4 hours including 3.5 hours of overtime.
In 2000, the Bureau of Labor Statistics created JOLTS, the Job Openings & Labor Turnover Summary, to track movements of labor within the U.S. job market. Data is reported monthly on the number of job openings, lay-offs, separations, and quits. The job opening data provide a glimpse of the demand for labor across our economy.
This relatively unknown report hit the headlines in early June with the startling news that 6.7 million jobs were available in April with only 6.3 million people unemployed. In June the difference reached over a million. Continuation of this predicament will effectively put a cap on economic growth.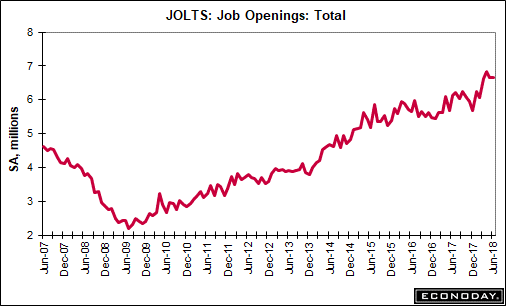 The inflection points in the job openings curve also have shown the uncanny ability to forecast the direction of the economy. Note in the chart above that job openings reversed course in June 2009, the month the Great Recession ended.
The low unemployment situation has resulted in stronger confidence in the job market. In April, 3.4 million workers quit their jobs in the belief that better jobs are now available. That number approaches the peak reached in 2001 for that metric.
The JOLTS data are only numbers and don't reveal the depth of the certain mismatch between a specific job and the pool of those qualified to match the job's description. The U.S. work force requires a massive re-training of its individual workers to meet the demands of employers. That task must be initiated, or the goals of 3 percent GDP growth and a higher standard of living will hit a wall. Companies are waking up to find a strong need for in-house training and career paths that provide opportunities for advancement and higher compensation.
In view of this shortage, the quest for labor-saving, higher productivity equipment has never been more critical.
A significant factor impacting the U.S. work force is the retirement of the Baby Boomer generation. In 1980, the ratio of adults 65 and older was 19 for every 100 between 18 and 64 years old. That number only rose to 21 by 2010. During the next seven years, the ratio jumped to 25 and is projected to soar to 35 by 2030. Compounding this emerging issue are the lower birth rate at a 30-year low and the reduction of legal immigration.
Keep your eye on the monthly rate of job creation. July's number of 157,000 new jobs is well below the 2018 average rate of 215,000 for the year to date. While lower, last month's number is sufficient to absorb new entrants to the job market without further lowering the unemployment rate and creating higher wage pressures.
Manufacturing
The July ISM Manufacturing Index came in at 58.1, down by two points from June. That performance marks the 23rd consecutive month of growth in the manufacturing sector. Most economists agreed that the cool-down was healthy, as this sector had begun to overheat.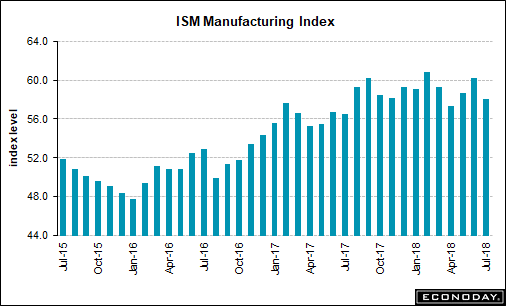 Demand remains strong, but manufacturers are showing concerns about brewing trade disputes and their impact on sales. In addition, escalating wage costs have executives in this important sector concerned.
Employment in manufacturing has increased since the 2009, the end of the Great Recession. Thus far in 2018, factory hiring has doubled compared with last year. As noted above, the increased demand has resulted in a 2.7 percent jump in average wages.
Two factors have benefited companies in this sector: (i) healthy global demand for U.S. made products and (ii) the Trump tax law that has motivated many firms to invest in capital equipment.
Housing
Since World War 2, the housing sector has led the U.S. economy out of recession. But in spite of a strong economy, rising take-home pay, and a positive buyers' attitude toward homeownership, home sales have declined in five of the first six months of 2018. Housing typically accounts for 15 to 18 percent of GDP. Achieving a steady 3 percent growth in GDP without the normal contribution from housing is unlikely.
In June, Housing Starts plummeted 12.3 percent to a 1.173 million annualized rate, its lowest level since September 2017. Both multi-family and single family starts participated in the decline. As worrisome are June's 2.2 percent drop in Permits, which allow builders to break ground, and the decline in Completions, which puts a lid on inventories of houses ready to occupy.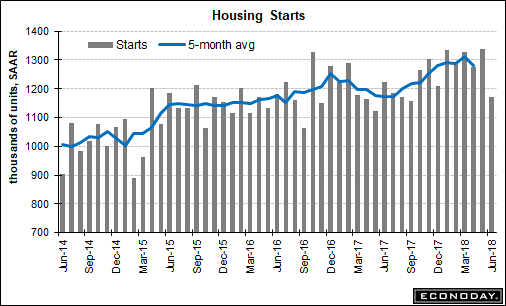 In addition to the low inventory of houses available for purchase, home buyers are up against rising mortgage rates and the new tax law's less favorable treatment of interest expense. The current rate for a 30-year loan is 4.58 percent versus 3.95 percent in January. Higher costs for softwood lumber have translated into higher new home prices. Both first-time buyers and those seeking to move up are being left out of the market as prices rise twice as fast as incomes.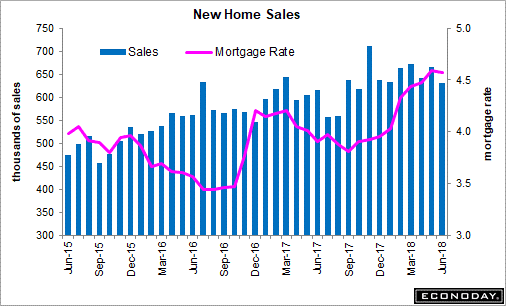 Not surprisingly with an inventory of New Homes for sale at only 5.7 months, this category fell by 5.3 percent in June to an annual rate of 631,000.
Existing Home Sales fell 2.2 percent year-on-year in June to an annualized rate of 5.38 million. More homes came on the market creating an inventory of 1.95 million units, a 4.3 month supply.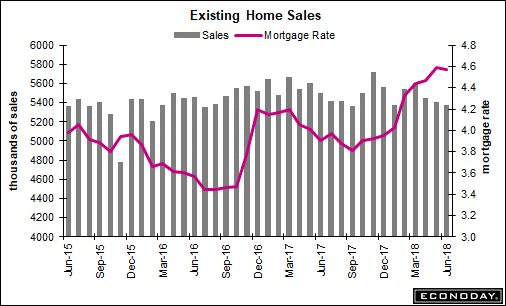 Historically, about 40 percent of home sales occur in the March-June selling season. Even with a healthy increase in sales in the last half of 2018, this critical sector will most likely turn in a poor performance in 2018.
One bright spot for the future is the rise in homeownership. In 1Q2018, the share of homes owned by an occupant increased to 64.3, up 0.6 percentage point. Unfortunately that's a full percentage below the 50-year average for that metric.
One concern is the 28 percent rise in home prices since mid-2012. Prices in the important entry-level category are increasing even faster. Housing experts point out that home price inflation is increasing the risk of a housing bubble, fueled by lower underwriting standards.
Freddie Mac has announced an expansion of its 3 percent down-payment mortgage to compete with the Federal Housing Administration and Fannie Mae. These agencies guarantee about 80 percent of all home mortgages. Similar conditions in 2005-6 fueled higher home prices and an excessive foreclosure rate. The end result was the Great Recession.
Inflation: A New Worry
Since April 2012, the Personal Consumption Expenditure Price Index has come in at or below 2 percent, the Fed's inflation target. During that period, GDP growth was tepid, the dollar strong, and the demand for labor weak. Now, with inflation running at 2.9 percent and the unemployment rate at its lowest in 18 years, the Fed is correct to heighten its efforts to rein in inflation.
The primary tool employed by central bankers to manage the economy is monetary policy, the use of interest rates to balance employment and inflation. Raising rates too early in the business cycle can cause a slowdown. If the Fed raises rates too late, higher inflation can result.
The Fed has raised its benchmark interest rate twice in 2018 to a range between 1.75 and 2 percent. Market watchers are betting on two more quarter-point increases before year-end.
The timing and amount of rate changes are driven by intuition and experience. It's not a matter of turning a few dials on an autopilot. The U.S. economy is complicated and forever evolving. Few factors are within our complete control; most are not. But the Fed's goals of sustainable employment and stable prices are close at hand.
Bottom Line
If the U.S. was a desert island, economists would be ebullient. Nearly everyone who wants a job has one. Inflation has been low for 6 years and is only now fractionally above target. The manufacturing sector is healthy and growing. The only weak spot is housing.
But alas, we reside in a complicated world. There is always a loose cannon that prohibits a lasting status quo. Today's disruptor is the recent trade policy aimed at leveling the economic playing field and protecting U.S.-developed intellectual property. A scenario where tariffs cause prices to rise while the economy weakens is possible. Will we allow such a scenario to occur? Stay tuned.