American Hardwood Species Guide.
What to consider when selecting a hardwood species?
This should make it a little easier.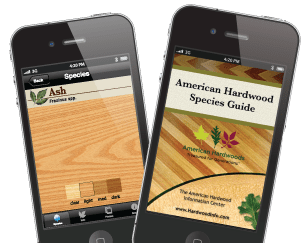 The ever popular American Hardwood Species Guide is available as a Mobile App. The FREE Reference Guide application includes information about many of the popular American hardwood species, profiling appearance, physical and working properties, availability and typical applications of each.
Also, a stain simulator displays the species in clear, light, medium and dark finishes to help visualize stain combinations of flooring, cabinetry, moulding and furniture co-existing in a single design space. Plus, there is information on workability, strength and mechanical properties, and as an added bonus, each species
profile includes images featuring the wood in finished applications.
Apple mobile devices click here.
Android mobile devices click here.